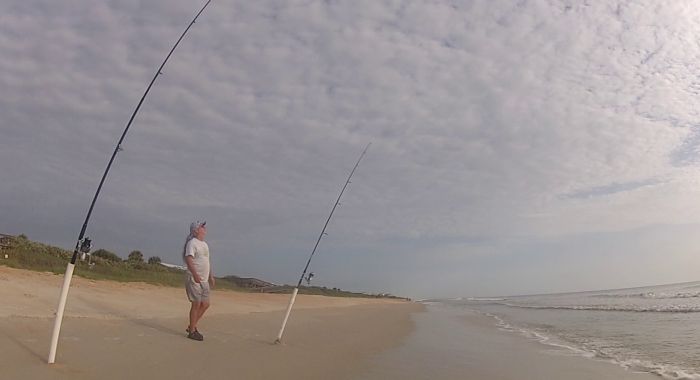 Even after you've done everything right there's no guarantee you will catch any fish. That's me in the picture above getting totally skunked the other day.  It was a perfect morning (or so I thought). The tide and surf was just the way I like it.  I setup in a spot that has produced well on other days but I didn't even get a strike. So what went wrong?
To be totally honest with you, I don't actually know for sure. Something changed that I wasn't aware of and the fish just turned off. There are times when it's more obvious why you aren't catching anything. It could be a significant change in the weather or something in their environment.
Fish generally seek out three things for their habitat, food, safety and comfort. Anything that disrupts those factors will cause the fish to change their regular patterns.
I'd like to rule out comfort since the water and weather has been pretty consistent. On the other hand the fish could just be out in deeper water where I couldn't reach them. They could have been drawn to another area with a better food source. There's no way to know for sure.
One Thing You Should Do When You Don't Catch Any Fish
One thing I like to do when the bite turns off is to talk to some of the other anglers that fish the same area. So two days later I went to the beach (without my gear) to see what I could find out. Being on the weekend I expected to see several others out there fishing.  On most weekends I usually see a dozen or more guys (and gals) but this time there was only a few. Two of the three I spoke with told me they did pretty good the day before.
I was glad to learn that more than likely nothing significant had affected the fishing. While I was there one of the guys hooked something pretty big but got broke off. Judging by the the fray on the line it was probably a shark. That's another good sign.
Although I couldn't pin down anything specific regarding my off day there's always something you can learn about this sport. There's an old saying among the old timers that I'd like you to remember. "The more you go the more you know". Keep that in mind.
How Keeping A Log Can Pay Off
There's one other thing I'd like to add for the future that will help determine why you didn't catch anything. Keep a log and record anything you can each time you go out.
Many years ago a friend took me fishing for Rock Bass in Sodus Bay. Apparently the Rock Bass come into the bay from Lake Ontario by the thousands to breed but only at a certain time. The key is knowing when they are there. My friend learned from his dad that when the apple blossoms come out the Rock Bass will be in the bay.
How his dad knew that I don't know but this is the kind of knowledge you can learn from your log. The apple blossoms only come out when climatic conditions are ideal. It's never on a specific calendar date but it just so happens to be the same climatic conditions that cause the Rock Bass to be in the bay.
At first I was skeptical when my friend told me why we were going fishing for Rock Bass. I certainly wasn't comfortable buying dozens of minnows before we hit the water.
Much to my surprise we caught fish after fish as soon as the bait hit the water. At the end of the day when I closed my eyes to rest my mind would think I saw the bobber going down and I would jerk back up thinking I caught a fish.
It was one of the most memorable fishing experiences of my life. I'll never forget it and it was over 40 years ago.