A spinning reel equipped with a baitfeeder feature (AKA a baitrunner) has two drag systems. There's a primary drag on the end of the spool and a secondary drag built into the back of the reel body. The secondary drag is activated by a lever which changes the drag to a very light setting almost free spooling but as soon as you begin to crank, it immediately switches to the primary drag.
So Why Would Anyone Want A Spinning Reel With With Two Drag Systems?
The secondary drag system is great for free lining bait out through with a rip current or just carried out with the undertow. The baitfeeder drag allows the bait to flow out through the rip where predator fish are staged up waiting to feed.
When a fish picks it up the primary drag takes over as soon as you start to turn the crank. This is a very effective way to fish. See the diagram below.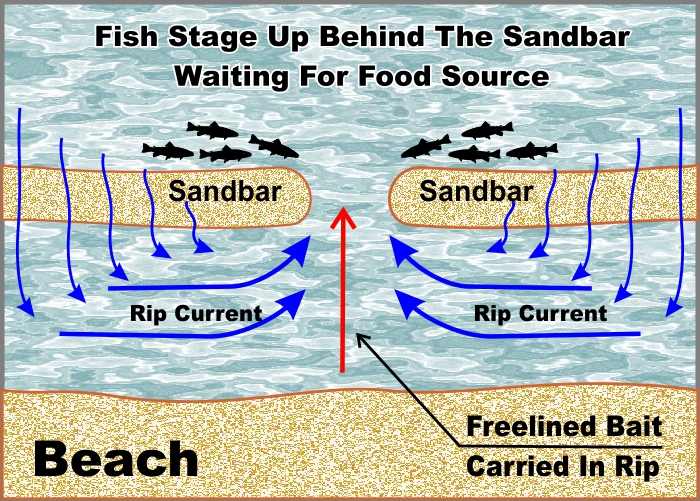 Even if your not free lining bait, let's just say you have your surf rod sitting in the sand spike waiting for a strike. Your bait could be picked up by a fish large enough to pull the sand spike over and take your rod with it.
I've personally seen this happen to a friend. He was able to recover the rod before the surf took it but he did lose the sand spike. The sand spike just washed into the surf and disappeared. This would have never happened if he was using a baitfeeder and had it turned on.
I know you might be thinking, " just make sure the sand spike is in deep enough". That's not always the case if the surf is washing up around it. You would be surprised how easily it can be loosened up without you realizing it.
When fishing for sharks you shouldn't try to set the hook right away. Let them pick up your bait and move off with it before setting the hook. This is another situation where a baitfeeder is ideal. A fish can pick up your bait and take out line without feeling any tension on the line.
You might also choose to use the baitfeeder while fighting a large fish that decides to take a run. It's easy to flip it on, use it until the fish turns or slows down then start cranking again.
I've used it as a quick release while it's in the sand spike to lower my rig for a bait change. I just flip it on, let it drop and flip it off. Once you own one you'll find yourself using it often.
I own two Okuma baitfeeder reels, an Avenger ABF-65 and a Coronado CD-80a. I bought the 65 first but in retrospect I should have gone for the ABF-90 because the 65 and the 90 physically look like the same size except the 90 holds more line. So when I decided to get the Coronado I got the biggest size.
You'll probably want to take a look at these reels and read the reviews on Amazon. Here's a link for the Okuma Avenger ABF and a link for the Okuma Coronado Baitfeeder. These reels are an excellent value for the money. As a matter of fact when I bought the 80a on Amazon it was actually priced $10 less than the 65a. Go figure.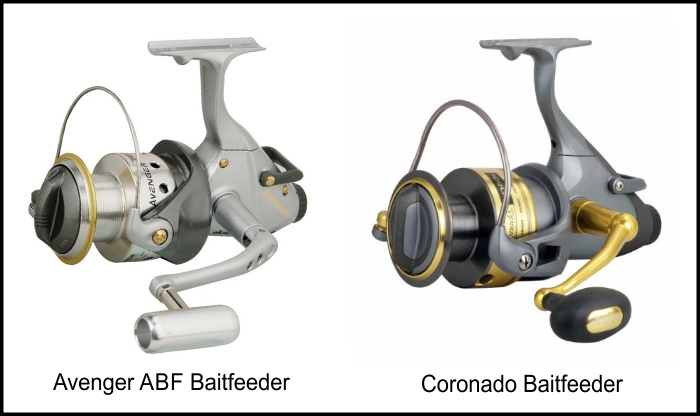 The Coronado is the next level up in price from the Avenger. Notice the difference in the thickness of the bail. It also has a stronger drag rating. Even though it  has less bearings than the ABF, don't let that dissuade you from buying it. The number of bearings in a reel is more of a marketing ploy that an indicator of the quality.
The chart above shows ABF-90 has a 22 lb. drag rating and the Coronado 80a has a 33 lb. drag. Strangely enough though the ABF-90 actually has more line capacity at 590 yds. of 20 lb. mono versus the Coronado 80a at 350 yds. of 20 lb. mono.
When I decided to spool my 80a with 65# braid, it just about held 300 yds. (65# PowerPro braid measures .016 and 20# mono measures .017 ). According to the chart above it should hold 350 yards easy. Overall my experience when spooling Okuma reels with braid is that their line capacities seem to be a bit overstated. I have three of them for surf fishing and although they're all spooled with braid I couldn't get the anticipated line that I thought should fit on any of them.
I hope this article was helpful. If you you don't have a baitfeeder reel in your arsenal think about adding one the next time your out shopping for a new addition to your collection. You won't be disappointed.