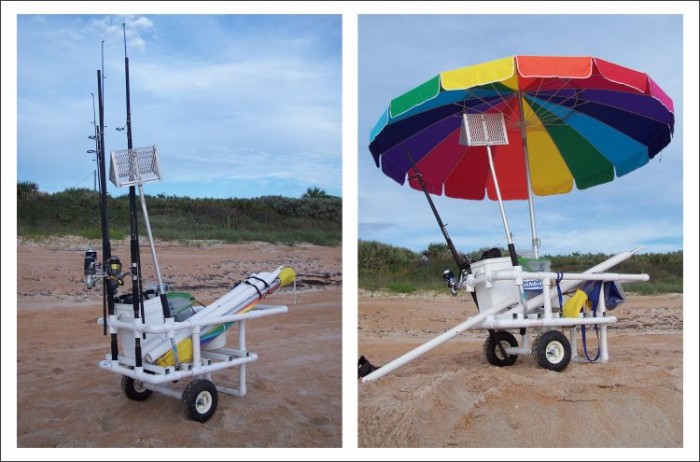 Sometimes I need to bring more things to the beach so I built this cart. But before I finalized the design I wanted to see if there was anything that needed to be changed. So I loaded it up for a test run.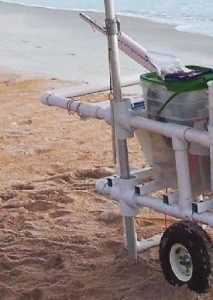 It has 4 rod holders, 10 inch diameter wheels and a way to anchor it in place with the umbrella. The wheels came from Harbor Freight. Everything else was readily available at Lowes.
In the picture on the right you can see how the umbrella goes through the cart and into the sand. It's quite stable and very convenient. It would work well for a holder when pier fishing too.
Although the cart is light weight and well balanced there is a couple of changes that I want to make. At some point I may want to add larger wheels so it needs to accommodate that. It should also have a cutting board and a bait holder. Other than that I'm pretty happy with it.
With a setup like this you could spend the whole day at the beach and have everything you need with you. This won't replace my other cart. It's mainly needed for those times when I want to bring more gear along.
Most of the anglers I see at the beach just setup right near the walk over. Obviously they aren't concerned about getting on a better spot.  Or maybe they just don't know any better.
Most of the time I want to setup a few hundred feet from the walk over. I have to get everything there and back in one trip. There's no way I'm going to go back and forth with my gear.
If you're just getting into surf fishing you don't need a cart like this. This is something you'll want when you get more serious about it.
Things I Bring With Me On This Cart
Three Surf Rods
Three Sand Spikes
Sand Flea Rake
Tackle Box
Umbrella
Cast Net
Bait Bucket
Empty Bucket
Small Cooler
Cameras w/Accessories
My Design Criteria For This Cart
When you design and build something from scratch you can make it exactly the way you want it. You get the satisfaction of doing it yourself and saving money besides. Carts like this start at around $200. This one cost me half of that.
One thing that was important to me was the weight distribution. The wheels are located so it won't tip backwards but yet the handle in front has minimum weight on it, so it's easier to pull. The overall width of the cart was also important. I didn't want the wheels to be wider than the cart.
The umbrella holder was another must have feature. I just drop it in and it's good to go. It saves time getting setup, plus provides shade for the cooler and bait on board. I seldom have time to sit in a chair when I'm fishing but if it was slow the umbrella could shade me as well.
This surf cart couldn't be more suited for me but if I have any more ideas for it I'll let you know.
Update
A neighbor was discarding a sheet of Vinyl lattice which I easily adapted for a floor in the cart.
I also added a cutting board in the front that I found for $3.
In the back of the cart you'll notice that I made a provision to rest my surf rods while rigging them to fish.