I have three different ways of getting my gear to the beach. Which one I use depends on the situation and the purpose.
Method #1 – Hit & Run/Lean & Mean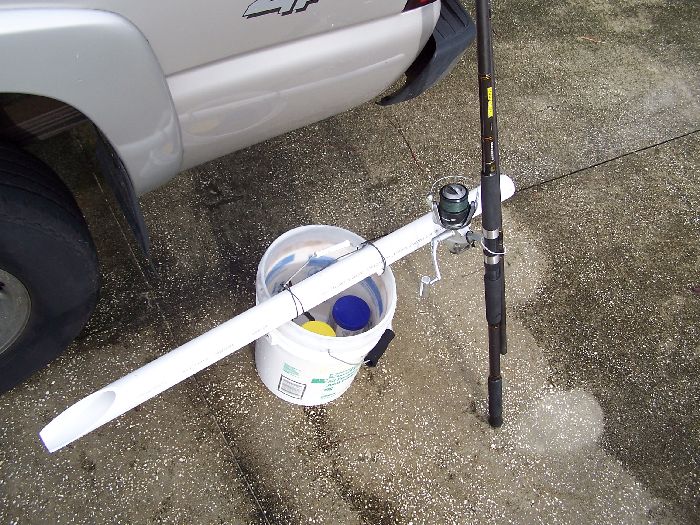 This is good when I'm trying out potential spots, new locations or monitoring seasonal transitions. I bring a minimal amount of gear. I'm very mobile and not planning to spend a lot of time in any one spot.
This method is best used for exploratory when you're not familiar with a location or haven't been out in awhile. You can try several locations in a short amount of time
My usual list with this method:
One rod
A sand spike
Two buckets
Minimal tackle
Artificial, frozen or salted bait
If I happen to get on a good spot I can always go back to the truck for one of my carts and more gear.
Method #2 – Easy Come, Easy Go – Folding Surf Cart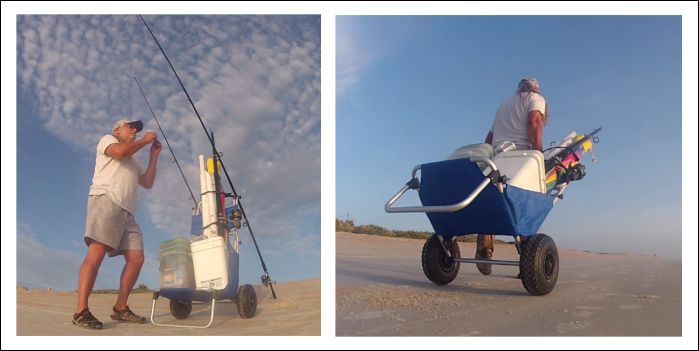 This is the method that I like to use most of the time. The cart handles the walkover stairs pretty well. It's fairly mobile, light weight and I can get most of my gear to the beach easily.
This cart folds up flat and goes in and out of the truck easily. It loads quickly and I can be on my way. If I had to choose between this and a full size surf cart I probably would go with this cart. Most of the places that I fish have stairs to negotiate. So a full size cart is a lot more work getting back and forth from the surf line.
My usual list with this method:
Two or three rods
Two or three sand spikes
Bucket
Tackle bucket
Umbrella
Water bottles pre-fozen
Snack bag
Cameras
Artificial, frozen, salted or cut bait
The other nice thing about this cart is that it also serves as a chair if the action is slow.
Method #3 – I'm All In – Full Size Surf Cart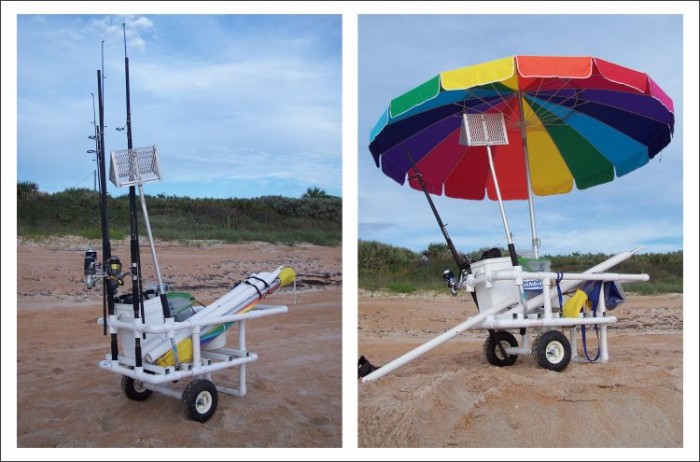 My full size cart is used when:
I want to spending more time at the beach
I plan to bring more gear than the folding cart can handle.
There are ramps or paths to the beach without stairs
If I'm fishing with a friend & can get assistance over stairs
This cart is nice because it has flat surfaces to set things out on plus it has a cutting board attached to the front. It pulls easily on hard sand but not so much over the soft sandy areas. Bigger wheels would help but that would have doubled the cost of the cart which only cost about a $100 to make.
My usual list with this method:
Three rods
Three sand spikes
Bucket
Tackle bucket
Umbrella
Water bottles pre-fozen
Small cooler
Cameras
Bait bucket
Cast net
Sand flea rake
Artificial, frozen. salted. live or cut bait
Each of these methods serves a purpose. I like the fact that they give me different ways to access locations and more opportunities to get my gear to the beach.
The only thing better than any of these methods is if you can drive on the beach.