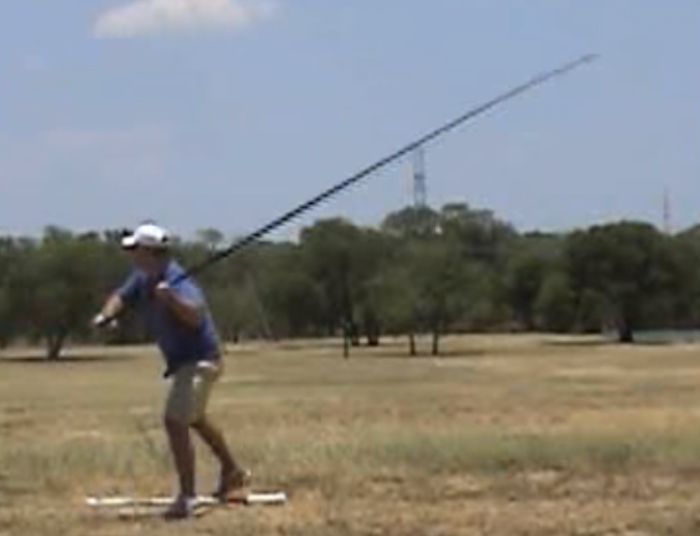 When you're at the beach and you throw out your best cast do you really know how far it went out? It's very deceiving to judge distance while looking out over the water. Wouldn't you like to know for sure?
Not to long ago my neighbor wanted to learn how to surf fish. He had plenty of experience casting with fresh water equipment but since surf casting is a lot different I needed to give him some pointers.
My method certainly isn't original but it is effective to improve your casting distance.
At first, when you try this out, you might be surprised that you aren't casting as far as you think you are.
You'll need to get a couple of things to get this setup. (You can get them anywhere but if you click the pictures they link over to Amazon.)
I took my neighbor over to a park near by with a wide open area. We used the flags to mark out 120 yards in 20 yard increments. (You could also use a 30 foot tape measure to mark out 60 foot increments which of course would be 20 yards).
After giving him some basic instructions we began practice casting. I watched him cast and then gave him pointers that would help him get more distance. It didn't take long before he was getting over 80 yards with ease.
One of the keys to surf casting is learning the best moment of release. Too early and your cast goes too high, too late and it hits the water too soon.
The optimum release point is when the stiff part of your rod is in front of you at about 45 degrees with the ground.
This is the best picture I could find to show the release point. It's just after the rod tip starts to straighten.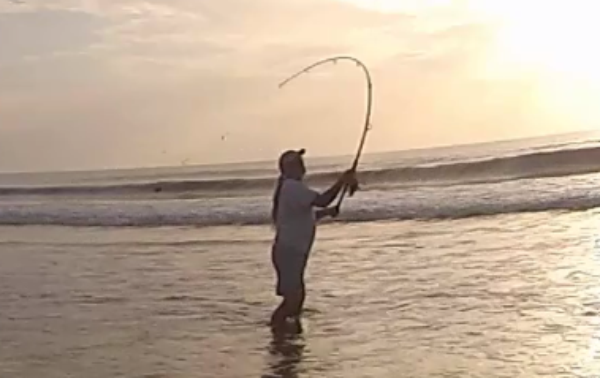 What's nice about using the flags is you get immediate feedback on your casting distance. It's easy to tell right away whether you are improving and what you might be doing wrong.
Of course we only had pyramid sinkers attached for practice. We started with 3 ounces and then compared it with 6 ounces to see the difference. You should also do this with different surf rods if you have them.
You don't have to go to the beach to do this. Not everyone that loves surf fishing lives near the beach. Sometimes you can scratch that surf fishing itch just by practicing your casting in a safe open area. It also gives you the confidence to know what you can do when you get the chance to go out.
Some Casting Tips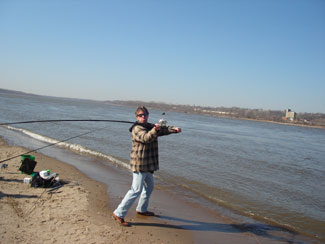 Stand with your feet spread about shoulder distance apart and positioned sideways from the direction of your cast. Hold your rod pointed directly straight back from the direction of cast. Remember, your cast should be directly over head. Pull down with the arm in front (that would be the arm holding the bottom of your rod and push up with the other arm as you bring the cast over head. Remember the release point is key.
Try this to get a little more distance. With your rod positioned for the cast, swing the weight back and forth towards you and start the cast when it starts to swing out away from you. You'll notice that it increases the bending force on the rod which will put more distance into the cast.
Let me know if this help you get more distance in your cast.