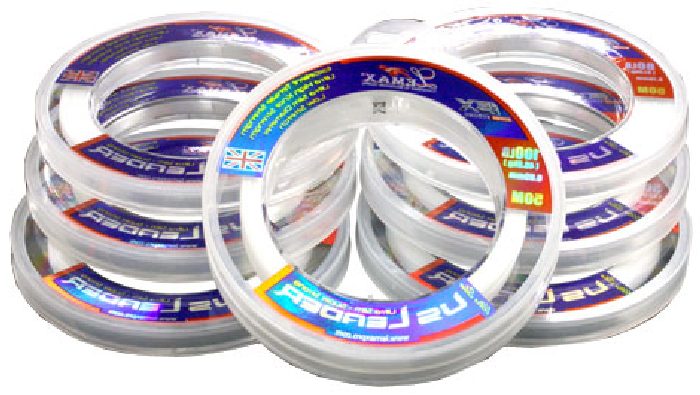 Is fluorocarbon really worth the extra money for surf fishing leaders? I think the advantages are worth it and I'll tell you why.
Although it looks the same as monofilament it's actually very different in several ways. The first question that comes to mind besides looks is the price difference.
The Price Difference Shouldn't Be A Factor
Fluorocarbon leader material is in the neighborhood of 7 times more expensive than mono. Although that sounds like a lot, that only amounts to about 50 cents per leader. If a fish breaks me off I'm more concerned about the cost of my pyramid sinker than the leader material.
It Doesn't Matter That Fluorocarbon Is Nearly Invisible In The Water
The reason that fluorocarbon is nearly invisible in the water is because it has nearly the same refractive index as water. The result is it doesn't appreciably distort light passing through it.
As far as I'm concerned near invisibility should only be a consideration if you are fishing in very clear water. For the most part, even in clear water I don't think it makes a big enough difference to be concerned about it.
If you're fishing a lure the fish is focused on the action of the lure. If you're fishing bait the fish is focused on the scent. The hooks are pretty much visible anyway. So why is the line visibility a significnt factor?
The Performance Characteristics Make The Most Difference
I'm sure you heard that Fluorocarbon is more abrasion resistant. It is, and that's because it's much harder than mono. I tried to look up the difference but was unsuccessful.
What I can tell you is purely from experience. Fluorocarbon doesn't seem to get nicked up as quickly as the mono. In the process of using it and working with it, you will get a sense of it's durability. It just seems tougher. Not only that but if you are making your own leaders you'll notice it's much stiffer to work with.
One of the downfalls of monofilament is how quickly it breaks down and looses strength. This is huge when it comes to surf fishing. Can you afford to loose a prize catch or any catch over 50 cents worth of leader material. I think not. Anytime a fish breaks you off it's a big disappointment.
One of the reasons that mono breaks down is because it has very poor UV resistance. Fluorocarbon on the other hand is virtually unaffected by UV exposure.
Now this next characteristic is something that you may not ever have heard about. Fluorocarbon leader material is waterproof whereas monofilament absorbs water. Monofilament absorbs water continually while it's in the water. This weaken it and contributes to unexpected break offs.
Previously I pointed out that Fluorocarbon is harder and stiffer than Mono. Anglers like it because it's more sensitive than mono and it's easier to feel the bite when used in conjunction with braid main line.
Anglers are also under the impression that it doesn't stretch. Actually it stretches more than mono. The reason why you don't realize it is because it takes a lot more force to cause it to stretch.
One Last Precaution
I hope by now I've convinced you that fluorocarbon leader material is worth the extra cost over monofilament. There two characteristics that you should be aware of though.
When rigging and tying knots it's very important to get that knot cinched down tightly or it will loosen and possibly fail. The other characteristic that you should know is that it has more memory than mono which is why I keep my rigs stored  straight on a piece of PVC rather than coiled in my tackle box.
I hope this info was helpful and as always comments are appreciated.