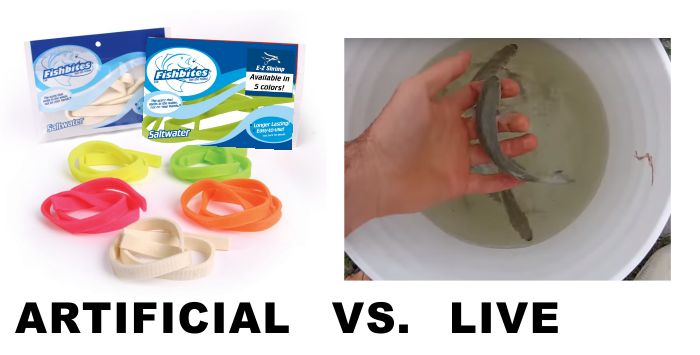 There's a lot of things about surf fishing that will get you by but not having good bait isn't one of them. You don't need the best equipment or good casting ability to catch fish on a regular basis but you do need good bait.
Without a doubt my favorite artificial bait is Fishbites. There's nothing like it. It's the next best thing to live bait.
The science behind Fishbites and the years in development is why they work so well. Don't take my word for it. Watch the video below to learn why.
One big advantage of artificial bait is the ability to keep some on hand for use on a moments notice. Quite often it's the only bait I fish with because it's so convenient.
I caught the Pompano in the picture below using just a piece of yellow Shrimp Fishbites.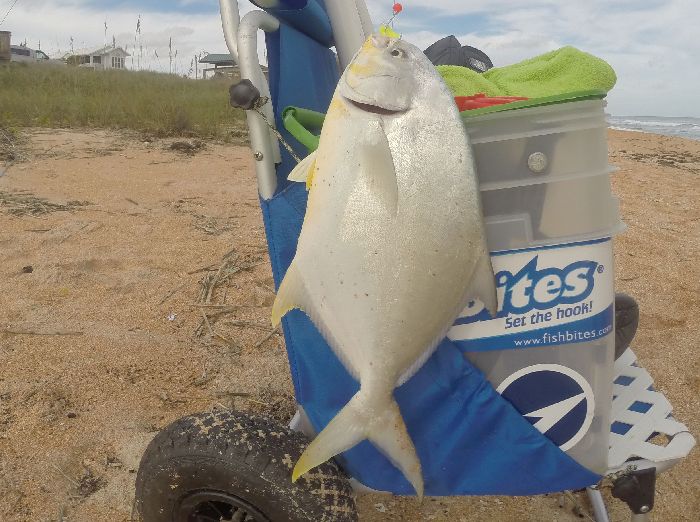 If you plan to keep some Fishbites on hand it's a good idea to store them in a cool dry place. I keep mine stored in the refrigerator. All you need is a plastic jar to keep them all together. If you don't keep them fresh they won't work as well.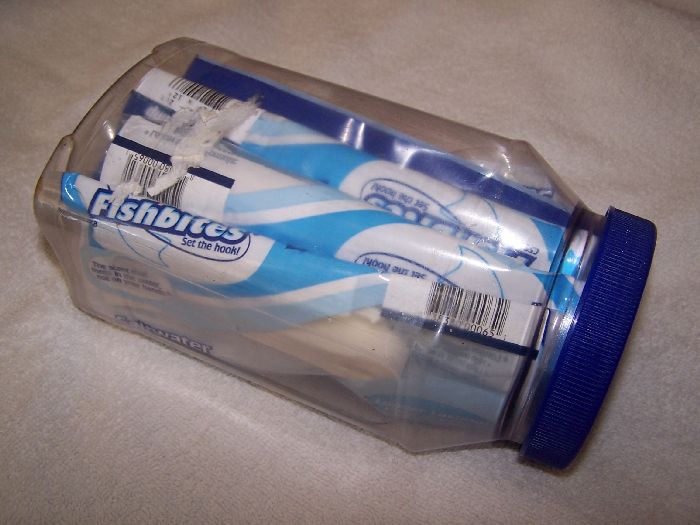 Normally I only bring a couple of packs with me to the beach. Even while I'm at the beach I keep them in a little cooler bag with my snacks. I'll throw in a frozen bottle of water for an ice pack which I'll drink as it thaws out.
My favorite flavors are Clam, Sand Flea and Shrimp. I like to buy each flavor in a different color so it's easier to tell them apart without having to read the package.
Usually when I rig them up I'll have a different flavor on each hook so I can see if the fish have a particular preference on that day. The colors make it easy to see which flavor they like.
When I caught the Pompano above I had a Fishbite Sand Flea on one hook and a yellow Shrimp Fishbite on the other. Personally I don't think the color is as important as the flavor because it just stays in one spot waiting for a bite.
My Take On Live Bait
Although Fishbites are fantastic, in my opinion, nothing beats live bait. The reason is, with Fisfbites you only have scent working for you. The scent is slowly released into the water as the bait dissolves. With live bait you have scent and something real to attract your target species.
Predator fish recognize an opportunity to feed on live bait immediately. They have an amazing sense to detect live bait from a greater distance than is possible with artificial bait.
Live bait does require more effort to obtain and keep it live. If you plan to get shrimp or bait fish yourself you'll need to know how to use a cast net. Using a cast net presents another skill to learn. There's lots of Youtube videos  to learn from but it does take practice to get the net to open in a nice pancake.
If using a cast net isn't your cup of tea then you'll have to buy bait. The problem with buying bait is how much should you get? If you don't get enough you could run out. On the other hand if you don't catch anything it's the same as throwing money away.
Even though I have live bait to fish with I'll also have artificial bait as a backup in case I run out.
Sometimes you can get live bait fish right at the beach but your better off finding regular spots to get it that are reliable
The best place to get live bait yourself in Florida is in locations adjacent to the Intracoastal waterway. Look for mosquito ditches, feeder canals, salt marshes and shallow flats. You should be able to find similar areas like that where you fish. Just use Google Earth to scout possible locations for easy access.  You may be able to throw a cast net from the bank or wade out on the flats.
If it wan't for the convenience of artificial bait I would only fish with live bait.