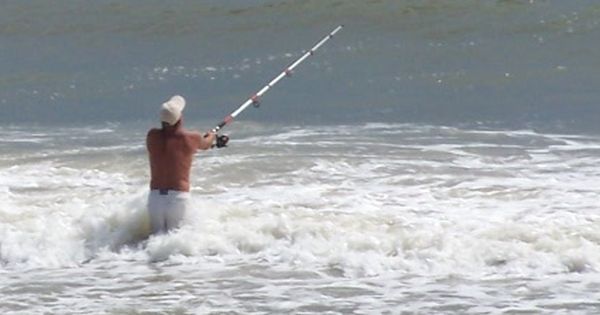 I know this guarantee is a bold statement but stay with me on this. Top producing surf anglers will tell you they catch all their fish before they hit the beach. This is how they do it. 
They do their homework.
They plan ahead.
They have action steps they do before they go out.
They develop a strategy
They have confidence on their side.
Step 1 Review Surf Fishing Reports For Your Area
If you haven't located a source for fishing reports in your area you are missing out on an opportunity to become much better at surf fishing. You can learn a lot quickly and be better prepared when you arrive at the beach. Knowing what tackle and rigs to bring saves a lot of time. When you hit the beach you can have the bait needed or lures ready and start fishing.
Online forums are a great place to find out what's happening in your area and make new fishing friends. To find a surf fishing forum in your coastal area use your favorite search engine with the search term "surf fishing forum" along with your coastal state. Examples; surf fishing forum Texas, surf fishing forum South Carolina, surf fishing forum Florida etc. Get the idea. If you're not in the states you should be able to do something similar for your location.
Develop a relationship with your local bait shop. Get to know the attendants and shop there whenever you can. During the course of the day they talk to a lot of fisherman. Fisherman love to brag and are quick to share their stories with the attendants. You can pick up a lot of good info once you get to know the attendants that work there.
Some of the local papers may have a section for fishing reports. Go online and see if they have a digital version. This won't be as good as the other report sources but it's better than nothing.
The point here is develop regular sources for fishing reports that you can check anytime you plan to go surf fishing. Once you've gathered information you should have a pretty good idea of what you want to fish for.
Step 2 Determine Which Type Of  Bait You Will Use
Will you be using artificial, live or fresh dead bait. If you've been following any fishing reports then you should be able to decide what bait you want to have along and where you'll get it.
It's a good idea to have an alternative bait with you as well. If your first choice for bait isn't producing at least you'll have something else to try.
The best artificial bait I've ever used is Fishbites. Since it keeps very well I always have some at home and with me when I'm fishing. Another good idea is to keep a variety of frozen bait at home. I package my frozen bait in smaller plastic bags so I can take just what I need with me for the day .
If you are prepared with artificials and frozen bait stored at home the only thing you might need then would be live bait which you can purchase or go out and get it yourself.
Step 3 Select The Location To Fish
Fishing reports are key to these first threes steps because you'll be learning what fish are being caught, the bait that's being used and the general locations. The smart thing to do now is to scout locations at low tide to pick out potential hot spots. Check out this post to pick up some pointers on reading the beach for the best spots to fish.
Scouting the beach isn't absolutely necessary but it sure makes a huge difference.
Step 4 Check The Weather Forecast
You should have an idea what to expect from the weather so you can be prepared to deal with it if need be. The amount of wind, rain and sun  could make or break your day. If it's going to be real sunny and hot I like to have a beach umbrella with me so I can get some relief. If I'm pretty sure it's going to be overcast then I might just bring a hat. I don't want to lug anything unnecessary with me.
My preference is too have good surf action. When there's no wave action the fishing isn't usually that good. In the area where I fish there are several real time surf cams that I can view online to see what kind of surf there is. If it's real flat I might not go at all.
If you can find surf cams where you fish, go online and see what the surf is doing before you head out.
Step 5 Choose The Best Time To Go Fishing
You want to learn whether your beach is best to fish high tide, low tide or it doesn't make any difference. If you don't know the answer to that then just plan on fishing around the high tide. So you'll want to have an app on your phone, a website you can check or just call your local bait shop to find out what the tide times will be at your beach.
Fishing around sunrise or sunset can also be a good time to go although I'd rather be fishing around my preferred tide time.
Step 6 Check The Gear & Tackle You Plan To Use
The last thing you want to happen at the beach is to find out something is a problem . Before you load up check your rods and reels. Make sure everything is in good working order.
Check your tackle. Do you have everything you plan to use on this next trip? Do your hooks need sharpening? Are there any nicks or cuts on your surf rigs?
Take a few minutes to check everything over. You don't want any surprises. I guarantee you'll be glad you did.
The other day after returning from a trip I was rinsing off my rods when I noticed one of them was missing the eye on the tip. Fortunately it had come off right there. So I was able to recover it and make a repair. Now maybe if I was more diligent I might have seen it was loose and fixed it before it came off.
Step 7 Review Your Strategy & Make A Check List
Now that you've covered all the preliminary steps it's time to formalize it into a strategy and make a check list. Your strategy is how you'll put all this into action and what you'll do when you're on the beach fishing. Will you stay in one spot or have other spots if one spot isn't producing. Will you switch baits after awhile or not? Whatever it is, it's your way of executing the best possible chance of success.
A checklist will prevent you from leaving something behind. Obviously you wouldn't forget to load your rods and tackle, right? That's not why you want to make a list. You might need to remember to bring sunscreen or a flashlight for night fishing.
What if you caught a prize winning fish but forgot your camera?
It's the extra things you don't want to forget that will be frustrating later. I don't always have the same checklist every time I go. It just depends on the situation.
You might be thinking this is a lot of work just to go fishing but don't under estimate the power in this process. I guarantee that any well known angler in the big leagues has something similar that they do before they hit the water.
Follow these 7 steps (preferably a day in advance) and I promise you that the amount and size of the fish you catch will only get better. Your surf fishing skill will improve and you'll be better for it.